O SOM DO JAZZ
Based in St. Petersburg, Florida, this group features Rio de Janeiro singer Andrea Moraes Manson and a crew of experienced musicians performing samba-jazz, Bossa Nova, Balanço, Baião and MPB.  O Som Do Jazz (the sound of jazz in Portuguese) recaptures the grace, energy and spirit of 1960s Brazilian music. Imagine Brazilian musicians in love with American jazz playing in Rio de Janeiro night clubs circa 1965 - and you get an idea of what O Som Do Jazz is about. The original music of O Som Do Jazz has been featured in HBO's series "Looking", Fox "Grandfathered" and in Chinese and Turkish bossa nova compilations. O Som Do Jazz has performed with Antonio Adolfo, Jovino Santos Neto, Diego Figueiredo, Francois de Lima, Haroldo Mauro and other Brazilian artists.

press:

Magical Brazilian music filled the room at The Palladium Side Door In St. Pete as O Som Do Jazz got St. Petersburg Jazz Festival off to a wonderful start! - Scott Hopkins, MusicFestNews

"On Sunday, July 8, the O Som Do Jazz Sextet performed to a packed Side Door cabaret room at the Palladium. Attendees lounged to the pitch-perfect sounds of the experienced jazzy players; a sonorous mix of instrumental numbers, classic Brazilian pop and sultry samba.  Dynamic and subtly passionate, Moraes sang with a range that went from whisper soft to belly-socking belt-outs, drawing from Brazilian greats like Elis Regina." - Julie Garisto, Creative Loafing
"It's a joy to hear her voice." - Egídio Leitão, Musica Brasileira
Previous events
O Som Do Jazz performs at the New Tampa Performing Arts Center on Sunday, October 7 at 3 PM.
O Som Do Jazz plays on the Clearwater Jazz Holiday's Rooftop concert series on Evy's on Clearwater Beach. This concert takes place at the open-air Evys Terrace Bar & Bistro located on the 6th floor at the beautiful Hampton Inn & Suites on the south end of Clearwater Beach overlooking the intercoastal waterway and Sand Key bridge. This intimate music series features an incredible lineup against a brilliant backdrop and includes your own private seating for 4, two complimentary appetizers per table, and table side food and beverage service.
It's Brazilian samba, Bossa Nova, baiao and more at the cool White House on the Timucua series.
general $25, students and seniors $12.50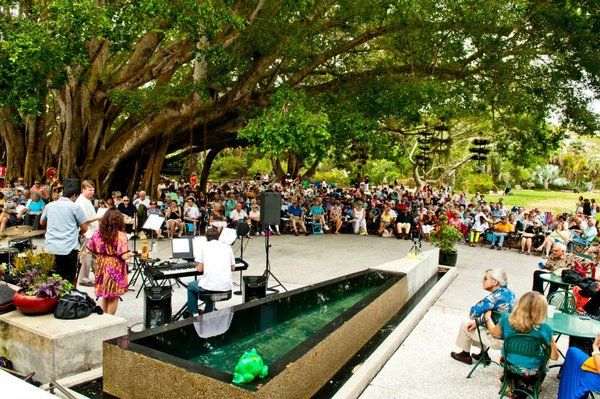 Press:
"Andrea Moraes Manson's vocals are direct and with plenty of swing to spare. It's a joy to hear her voice."
- Egídio Leitão, 
Musica Brasileira
"...this is one of the stand out releases in my opinion. O Som Do Jazz has captured the spirit of Bossa Nova in a release that I hope signals many many more "
- Koop Kooper, 
www.cocktailnation.net